Technology from CES could improve the efficiency and safety of critical infrastructure
CES, the annual Consumer Electronics Show, is the world's gathering place for innovative technology. This year, among the more than 170,000 attendees was Jeffrey Bigg, a computer science graduate student in the Illinois Cyber Security Scholars Program, who attended on behalf of the University's Critical Infrastructure Resilience Institute (CIRI), a Department of Homeland Security (DHS) Center of Excellence led by Illinois.
His mission: to find the best technologies to advance the mission of protecting and enhancing our critical infrastructure and that could be used by companies and industries. DHS selected him for the trip from a pool of applicants with the intention that he would find innovation in the corporate world that could benefit the work of the government center.
After three days at CES, Bigg identified three products that would be useful in CIRI-related work:
Daqri, a smart hard helmet
On the first day, Bigg found a brand-new hard helmet technology called Daqri Smart Helmet. The helmet aims to serve utility and service workers by not only protecting them, but also incorporating augmented reality through a visor that seamlessly connects the worker and their environment and provides real-time assessments and contextually relevant information.
This is true innovation, said Bigg. The demo was extraordinarily cool—I was looking at pipes and pressure gages, and the helmet had a visor that would pop up a little message that said the pressure was low on the pressure gages. Then it would automatically overlay instructions on how to fix it. It was complete science fiction.
Augmented reality, unlike virtual reality, doesn't replace the scene in front of a user with an illusion; rather, it adds more information to that scene. The helmet provides data about the user's environment, including 4D work instructions, thermal vision, data visualization, remote expert access, and more.
This product has the potential to seamlessly integrate in infrastructure workflows and increase both the safety and efficiency of industry workers, said Bigg.
Mutualink, a collaboration technology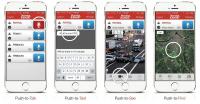 In emergency situations, when data can flood in from many different sources, it's important that personnel have access to up-to-date and comprehensive information to collaborate effectively.
Mutualink
is a system that aims to combine different information streams so that, in case of emergency, emergency personnel are able to quickly coordinate.
For example, it might pull various company information streams, government traffic cameras, police radio systems, and more, together. The interface connects video stream, audio stream, and USB ports, and can then send the data in a peer-to-peer network, shared with all the people that need that information.
In terms of CIRI research, this product could help with infrastructure disaster relief. When industry wants to coordinate with the police, normally they need a memorandum of understanding, but with this technology, you just plug in everyone's info, share data, and it automatically connects everyone, said Bigg.
Mutualink, according to company representatives, will continue to explore more information sources and applications in their peer-to-peer network, including coordinating the Internet of Public Safety Things, like fire alarms, exit signs, and even electric transformers. Bigg hopes that the technology can contribute to CIRI's mission of workplace preparedness as well as disaster relief.
Signal range boosters for cell phones
Cellular signal range boosting was an unplanned, but interesting find at CES, said Bigg. Critical infrastructure service workers may often enter remote areas that do not have cell phone service. If they need to ask a question in the field or have a medical emergency, they would have to drive back to an area of good service to make a call. In the case of a medical problem, cell phone service is the difference between of life and death.
Signal range boosting could benefit infrastructure workers in terms of convenience and disaster situations, said Bigg. Another example is if a cell tower is down in a disaster, range boosting can allow workers to reach towers up to 30 miles away.