Dominic Saebeler joins the ITI team as the Senior Associate Director
ITI welcomes Dominic Saebeler as the new Senior Associate Director. Saebeler will be responsible for a wide range of activities, including strategic planning and administrative functions.
This newly created position will place Saebeler in charge of promoting ITI research and professional education capabilities to current and prospective collaborators and sponsors. He will also provide high-level support for building on current research programs and facilitating the creation and growth of new initiatives.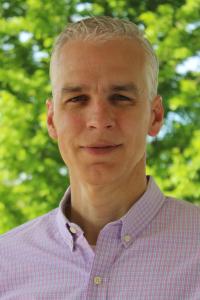 Prior to his recent appointment to ITI, Saebeler held a variety of roles including General Counsel, CIO, and Chief of IT Policy for the State of Illinois. He also held several private sector roles involved with security, technology, law and business consulting.
"With Dominic's background in IT and security, he brings a useful, new perspective to ITI," said ITI Director David Nicol. "He brings years of government and industry experience with him and we're really excited to have him on the team."
Saebeler researches, writes, and advises on critical infrastructure protection and cybersecurity strategies while collaborating with industry stakeholders, organizations, and government entities. Saebeler has drafted legislation and advised Illinois legislators on substantive topics related to data privacy, protection, and cyber security matters. He was also recently the first Director of Cybersecurity and Risk Management at the Illinois Commerce Commission. There, he spent three years creating an office dedicated to strategic assessment of critical infrastructure preparedness.
Outside of his work with ITI, Saebeler is an Illinois attorney and an adjunct lecturer at the University of Illinois in Springfield. There, he teaches a Business Administration course called "Managing Cybersecurity" that focuses on preparing business students to address and manage increasing cyber risk.
Saebeler studied Pre-Law at the University of Illinois and earned his Juris Doctor degree from Loyola Law School in Chicago.