Air Force gives $2 million to develop secure cloud computing technology
The U.S. Air Force Research Laboratory has awarded a new $2 million grant to the Assured Cloud Computing University Center of Excellence (ACC-UCoE) at the University of Illinois at Urbana-Champaign. The Center, which began in 2011 with $4 million from AFRL and the Air Force Office of Scientific Research, focuses on advancing secure cloud computing science and technologies.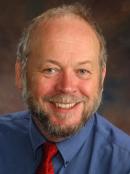 ACCC develops technology for assured, mission-critical cloud computing across "blue" and "gray" networks that ensures the confidentiality and integrity of data and communications, job completion in the presence of cyber attacks and failures, and timely completion of jobs to meet mission requirements.
ITI researcher Roy Campbell, who leads the center, says that research has already yielded many results.
In the last four years, we've established that you could build mission-critical cloud computing elements, that you could deliver real-time results to secure the cloud and that you can make the cloud reliable, said Campbell, the Sohaib and Sara Abbasi Professor in the Department of Computer Science (CS) at Illinois.
A computational cloud used in military applications may include both blue and gray networks, where "blue" networks are U.S. military networks, which are considered secure, and "gray" networks are those in private hands, or perhaps belonging to other nations, which are considered insecure. In order to reach mission goals, it is sometimes necessary to coordinate computation across a mixture of these blue and gray resources.
Campbell's team has improved the functioning of NoSQL databases, which cloud systems frequently employ, and developed more advanced scheduling algorithms. Researchers have increased the performance speed of these databases and demonstrated that they can be relied upon to finish a task on deadline – an important consideration for the military.
With the new round of funding, Campbell aims to develop new methods of managing real-time streaming in the cloud. As the industry is moving toward software-defined networking, he is looking at ways to apply the new approach to cloud systems.
Campbell says the research could save the government money by being able to use gray networks for missions instead of building huge networks to handle all of its needs.
It's also going to provide an additional layer of protection, because we can apply computing resources more liberally to missions, he said. The research provides more guarantee, allowing the armed forces to have more computing support for its work.
Announcements