Hahn builds tools to monitor the security and understand the vulnerability of the power grid
When Hurricane Maria hit Puerto Rico in late September, it devastated the island's power grid—and estimates suggest residents won't have full power again until mid-December. Puerto Rico's struggle to recover from the damage in the wake of Hurricane Maria without electricity reminds us of how important it is to keep it safe and secure, not only from natural disasters, but from malicious attackers and system failures.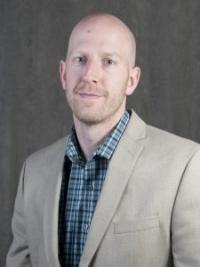 Adam Hahn
deeply understands this challenge. As an assistant professor of computer science at Washington State University, Hahn leads the WSU research team for the Cyber Resilient Energy Delivery Consortium (CREDC), a multi-university research initiative devoted to enhancing the security and reliability of our energy delivery systems.
Hahn is working on two projects: how to monitor the security of the devices that we use in the power grid, and how to measure the severity of vulnerabilities in power systems.
"We want to focus on how we provide security for the devices that industry uses to control the power grid, which can include control circuit breakers, embedded systems, and intelligent electronic devices," said Hahn. "These devices are in unique operational environments and it's really critical to maintain their security, yet we have a lot to learn about their underlying technologies and how to protect them."
Hahn and his team are working with industry and power grid testbeds to evaluate how the devices perform under attacks and what information they receive from the devices, which helps them to determine what they need to work to protect.
Protecting systems is one issue, but Hahn also aims to develop metrics for determining the vulnerability of a system, and how and if that vulnerability can cascade to larger issues in the power grid.
"It's hard to understand how a system failure will impact the power grid unless you test it to see what happens—what is the casual effect of the vulnerability and the impact on the grid?" said Hahn. "We're developing theories, tools, and testbeds to do different attacks and determine the relative risk to different utilities."
Hahn began his involvement with CREDC by attending a Summer School organized by the Trustworthy Cyber Infrastructure for the Power Grid (TCIPG), the predecessor to CREDC and also funded by the Department of Energy Office of Electricity and Energy Reliability and the Department of Homeland Security Science and Technology Directorate. After he received his PhD from Iowa State University, Hahn began as a faculty member at WSU and now leads research groups within CREDC. Hahn also recently served as a committe co-chair for the 2017 CREDC Summer School.
"What is great about CREDC is that we try to align our work with industry needs, and we are continually getting input about what they need and how our research can better address those needs," said Hahn. "This collaboration helps broaden our view of the problems our energy systems face."
The collaborative and industry-facing community that CREDC has built aims to develop the solutions that will enhance our power grid and energy delivery systems in many ways. Working together, researchers like Hahn want to not only help build resiliency into the power grid—so that it's better able to weather storms—but also to develop new technologies that will drive the innovation of the smart grids of the future.
Source: Information Trust Institute