EPRI Announces Winners of EPRI Challenge at CREDC Summer Symposium
The Electric Power Research Institute (EPRI), in collaboration with the Cyber Resilient Energy Delivery Consortium (CREDC), has announced the winners of EPRI's first Cyber Security Research Challenge, which offers technical and financial support to specific research projects. This Challenge enables greater collaboration between EPRI and academic institutions to identify and address capability gaps in existing strategies for protecting grid operations.
Old Dominion University: Data-Driven Attack Graphs
As utilities add more capabilities for advanced grid operations they will produce and manage much greater volumes of incident detection data. Researchers will use machine learning to characterize an attacker's intent and the attack's spread to systems involved in grid operations and reliability. It can also provide the basis for a plan that prioritizes cyber risk remediation for both network and host machines within SCADA systems.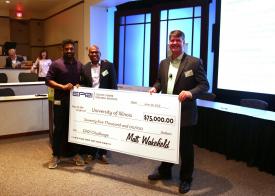 University of Illinois at Urbana-Champaign: Synthesizing Power Grid Datasets for the Assessment of Cyber Incident Detection Tools
Intrusion detection systems "learn" behavior patterns, detect anomalies in them, and produce large datasets to detect attacks. For scenarios involving power system attacks and intrusions, the research will evaluate a framework for synthesizing such datasets and modeling both cyber and physical components of the grid. Vendors could use the results to improve intrusion detection systems for utilities.
"We look forward to the potential of this research collaboration," said Dilhan Rodrigo, managing director of the CREDC, an initiative led by the Information Trust Institute (ITI) at the University of Illinois at Urbana-Champaign. "It provides EPRI with cutting-edge cyber security research and provides CREDC with a strong industry collaborator to guide researchers and clarify real business needs to secure the nation's electric power sector from cyber threats."
"The Challenge is part of EPRI's Cyber Security Strategic Initiative to address high-priority cyber challenges for utilities," said EPRI Senior Vice President of Research & Development Arshad Mansoor. "As part of our initiative, these academic collaborations, and the involvement of CREDC, we anticipate research results that can be applied directly to addressing grid reliability and resiliency."
EPRI recognized the winning research teams at CREDC's Summer Symposium on June 26, 2019.
About EPRI
The Electric Power Research Institute, Inc. (EPRI, www.epri.com) conducts research and development relating to the generation, delivery and use of electricity for the benefit of the public. An independent, nonprofit organization, EPRI brings together its scientists and engineers as well as experts from academia and industry to help address challenges in electricity, including reliability, efficiency, health, safety and the environment. EPRI's members represent more than 90 percent of the electricity generated and delivered in the United States, and international participation extends to 40 countries. EPRI's principal offices and laboratories are located in Palo Alto, Calif.; Charlotte, N.C.; Knoxville, Tenn.; and Lenox, Mass.
About CREDC
The $28.1 million Cyber Resilient Energy Delivery Consortium (CREDC), led by the University of Illinois at Urbana-Champaign and funded by the U.S. Department of Energy with support from the U.S. Department of Homeland Security, is working to improve the resilience and security of the cyber networks that serve as the backbone of the infrastructure that delivers energy – known as energy delivery systems (EDS) – particularly in the electric grid and oil & gas sectors. Working in close collaboration with industry partners, CREDC aims to create a channel through which foundational research will lead to short-term and mid-term solutions for the marketplace. The consortium consists of 12 universities and national laboratories. For more information, please visit cred-c.org.