CREDC researchers develop methods to analyze cyber resilience of power systems
As one of 16 critical infrastructure sectors, the energy industry plays an essential role in powering the nation's economy. But with the vast majority of the nation's power grid held privately, it can be difficult to ensure that each utility's unique cyber network is secure and resilient.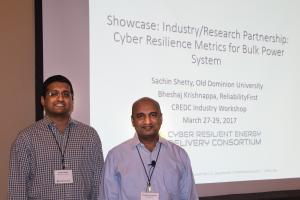 Sachin Shetty
, a researcher with the University of Illinois-led Cyber Resilient Energy Delivery Consortium (CREDC), has partnered with
ReliabilityFirst Corporation
to develop new methods to measure
cyber resilience metrics
, which provide insights into the ability to keep power flowing during a cyber attack. The intent is to assist power utilities in establishing baseline resilience metrics for bulk power systems (BPS), such as power plants or large substations, which are responsible for generating and transmitting energy.
"There is currently a lack of methods that can provide qualitative or quantitative ways to measure cyber resilience," said Shetty, an associate professor in the Virginia Modeling, Analysis & Simulation Center at Old Dominion University. "These methods will help operators provide quantitative insights into the ability of security controls to ensure operational resilience and development of a cost-effective mitigation plan to achieve the best trade-off between protection and performance."
The approach will measure cyber resilience for power systems as a function of robustness, redundancy, resourcefulness, and rapidity. It will utilize and simulate the analytical models to study resilience using the knowledge of BPS infrastructure, network topologies, firewall configurations, communication technologies, and more.
Since the goal is to help utilities to continually assess their resilience capabilities and benchmark their performance, Shetty is collaborating with ReliabilityFirst to determine the most relevant and helpful cyber resiliency metrics. As one of eight FERC-approved regional entities responsible for preserving and enhancing the reliability, security, and resiliency of bulk power systems, ReliabilityFirst actively works with transmission, generation, and other power companies in its footprint, which spans 13 states and the District of Columbia.
The idea, says Bheshaj Krishnappa, a principal analyst with ReliabilityFirst, is not just to prevent a blackout, such as the incident that put 50 million customers in the U.S. and Canada in the dark in 2003, but to be resilient to such situations.
"Currently, there is not a structured way to measure resiliency of bulk power systems," Krishnappa said. "We want to provide a structure for these measurements and ensure there are ways for utilities to really understand and manage their cyber or operational resilience."
If the end results of the metrics is a tool, it may be utilized by regulators and power utilities, Shetty says, and could also be applied to other fields, such as the oil and gas industry.
"These techniques could easily be applied to other critical infrastructure," he said. "That's the beauty of these models."
More About CREDC
The $28.1 million Cyber Resilient Energy Delivery Consortium (CREDC), led by the University of Illinois at Urbana-Champaign and funded by the Department of Energy and the Department of Homeland Security, is working to improve the resilience and security of the cyber networks that serve as the backbone of the infrastructure that delivers energy – known as energy delivery systems (EDS) – particularly in the electric grid and oil & gas sectors. Working in close collaboration with industry partners, CREDC aims to create a channel through which foundational research will lead to short-term and mid-term solutions for the marketplace. The consortium consists of 12 universities and national laboratories. For more information, please visit cred-c.org.